In New York City, homelessness is at an all-time high. What does it mean when your community rejects you or the neighborhood where you grew up no longer feels like home? We look at the intersection where homeless residents meet and sometimes clash with advocates, the community, and the government.
 —
On the evening of November 17, Isaiah Joshua Messiah Kelley steps into St. George's Episcopal Church in Brooklyn for a pre-Thanksgiving meal of turkey, stuffing, and yams. After dinner, while some men watch basketball on the old church TV, Isaiah reclines on the makeshift bed and prepares for a long night. He knows the drill. This isn't the first church he's slept in. At least St. George's doesn't make him carry a bed down a flight of stairs, aggravating his cerebral palsy. He is kind. He smiles often, especially when he talks about his girlfriend. He is easy going. Even if his neighbors sometimes aren't.
"If a newcomer enters into the church, sometimes the other people…might not want that newcomer really to sleep next to them. Which can be a bit difficult, you know," Kelley says. He shrugs and smiles awkwardly. "But we all have to get along, we all have to compromise."
When Kelley steps out of the church in the morning, he doesn't know where he'll be sleeping the next night or the next month. He certainly isn't alone. In New York City, homelessness is at the highest rate since the Great Depression, according to the Coalition for the Homeless, the oldest homeless advocacy organization in the U.S.
How much has homelessness increased in the last 10 years? Hover over the lines in the graph to see how the numbers have been climbing up:
Some stay in churches and synagogues. Most reside in the formal city homeless shelter system: 62,000 as of September 2017, nearly 75 percent higher than ten years ago.
The fast-growing homeless crisis in New York forced the city to scramble for an adequate solution. New York City has been a right to shelter' state since the 1979 New York Court of Appeals Callahan v. Carey decision, named after Robert Callahan, a homeless man suffering from alcoholism and living on the street. The ruling produced the Callahan Consent Decree, which requires the city provide to emergency shelter for all homeless men who request it. Further lawsuits have guaranteed the right to shelter for eligible homeless families and single women.
In February 2017, Mayor Bill de Blasio's administration announced a plan to 'turn the tide' on homelessness and introduce 90 new shelters over the next five years. But the plan sparked controversy in neighborhoods such as Crown Heights, where residents opposed the two new shelters, along with a third shelter in neighboring Prospect Heights, which have opened up in the past year alone.
One is a shelter on Bergen Street for homeless men 62 years of age or older. The shelter ignited significant community opposition, including a lawsuit filed by the Rebirth of Bergen Street Block Association that nearly prevented the shelter from opening.
Community members who filed the lawsuit maintain that there has been a blatant lack of community input in the process of establishing new shelters like the one on Bergen Street.
"For the mayor to come in and essentially, without community involvement, to add more homeless shelters—it's been very concerning to us who value our quality of life." says Chuck Moss, a lifelong Crown Heights resident and member of the Rebirth of Bergen Street Block Association.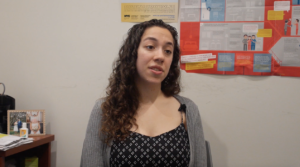 LISTEN:
Hannah Margolin, volunteer coordinator at Legal Hand -a walk in community resource center- explains some of the housing issues residents in Crown Heights face. Press the play button to hear the clip.

In a 2017 report, the city promised to increase communication with residents of neighborhoods hosting homeless shelters, and the Department of Homeless Services claims to provide a minimum of thirty days notice prior to the opening of any new shelter under the mayor's plan.
"We continue to work with all community stakeholders, including local elected officials, community board members, block associations, and community-based organizations to ensure each facility is integrated seamlessly into the community and our clients are welcomed as neighbors," says Isaac McGinn, press secretary for the New York City Department of Homeless Services.
But the community resistance is not only about communication. De Blasio's plan seeks to place homeless residents in their home boroughs. Residents of Brooklyn who became homeless would not only be returned to Brooklyn, but to a shelter in their home neighborhood, such as Crown Heights.  By doing so, homeless shelters can be overly concentrated: homeless New Yorkers tend to come from a few select areas of the city, so shelters would disproportionately open in those same areas.
A 2014 report by the New York City Independent Budget Office found that the greatest number of homeless families entering the shelter system came from three neighborhoods: East New York, Stuyvesant Heights, and Crown Heights North.
Crown Heights North – the site of the controversial Bergen Street shelter – is an area populated with predominantly low-income people of color. According to city data compiled by the nonprofit Measure of America, more than 70 percent of residents in the area are black or Latino. Average median income in the area is just over $42,000, compared with more than $96,000 for nearby Park Slope.
The map below shows the number of families entering the shelter system by community districts. The legend on the left indicates the number of homeless families. Click on any community district to view the data for that area.
It is currently set to Crown Heights North & Prospect Heights.
[Map Credit: Measure of America/Data2GoNYC, 2017]
Advocates opposed to new homeless shelters say these shelters are overly concentrated in poorer neighborhoods. They argue that the impact of the shelters is to burden these districts where poverty is already high—an alleged violation of the city's Fair Share Criteria.
"Everybody pays taxes, so we're willing to show our 'fair share,' but don't dump the whole thing here just because not as many people vote here as vote in other neighborhoods in the city," says Ethel Tyus, a Crown Heights native and Chair of Brooklyn's Community Board 8 Land Use Committee.  
According to a 2013 report from the City Comptroller's office, the New York City Planning Commission established Fair Share laws in 1990 to "further the fair distribution of the burdens and benefits associated with City facilities, consistent with community needs for services…"
In other words, prevent an over-saturation of facilities providing services to the public—including homeless shelters—in certain neighborhoods.
But there is  evidence to bear out residents' concerns. The same report from the City Comptroller's office showed that while areas such as Crown Heights and Prospects Heights had more than a dozen family and adult homeless shelters in 2013, other districts in Brooklyn such as Park Slope and Bay Ridge had considerably fewer shelters, while some districts had none at all.  
In response to these concerns, the Department of Homeless Services reiterates the summary from their 2017 report, which is that the mayor intends to "distribute shelters more equitably over time."
The city's defenders argue there are valid reasons to place homeless individuals in their home communities: keeping children in their local schools, avoiding long commutes to work and appointments, and being able to afford the cost of living—particularly food—in their community.
"These are families that are already in your community, families that are working there, families that you sit next to on the subway. Their kids are going to school with your kids," says Kathryn Kliff, a staff attorney for the Legal Aid Society's Homeless Rights Project —which exists to protect the right to shelter in New York City. "These are not strangers, these are not some aliens coming in from some foreign planet. These are members of the New York City community."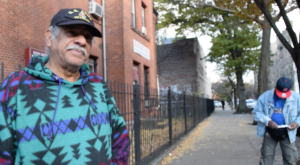 Still, local Crown Heights residents aren't the only ones upset by de Blasio's proposal. The mayor's plan proposed a rather modest decrease of the homeless population by 2,500 individuals over the next five years—a number which homeless advocates say is not enough.
"What is a 2,500 hundred reduction over five years when you have 60,000 people in shelters?" asks Kliff.
The increase in homelessness began under de Blasio's predecessor, Michael Bloomberg.
In an effort to rapidly curb homelessness and get low-income residents out of the shelter system, then-Mayor Bloomberg cut subsidies for affordable housing, including the Advantage program in 2011.
Since the end of the Advantage program, roughly 20,000 more individuals are now sleeping in the shelter system, according to data published by the Coalition for the Homeless. Advocates lay the blame squarely at Bloomberg's feet, lamenting the thousands of families that could have benefited from priority placement in public housing or Section 8 vouchers, an assistance program that allows families with a lower income to seek private housing,  and  instead ended up back in the shelter system.
"Bloomberg cut every housing subsidy program that existed," says Kliff. "His theory was you cut all these programs [and] then less people come in the shelter, but exactly the opposite happened."
De Blasio has worked to reinstate some of these housing measures, including programs such as Living in Communities and CityFEPS and SEPS, which provide rent assistance for individuals to move out of the shelter system and secure permanent housing. But homeless advocates assert that is not enough to make up for the "lost decade" under Bloomberg.
The problems go beyond city government policies. Landlords regularly discriminate against public housing recipients, according to homeless advocates, making it harder for homeless New Yorkers to secure affordable housing. And New York City rents are becoming increasingly unaffordable. According to a 2016 report on gentrification by NYU's Furman Center for Real Estate and Urban Policy, median rent increased by 30 percent in Crown Heights North between 1990 and 2014.
A 2015 Community Health Profiles report by the city showed that more than 50 percent of Crown Heights residents are cost-burdened, which means that more than a third of their income goes toward paying rent.
Ultimately, advocates for the homeless and local community residents say that only thing will ease the rising homeless crisis: more permanent, affordable housing.
In the Coalition's 2017 State of the Homeless report, Policy Director Giselle Routhier states,"We recommend that the City build 10,000 additional units of affordable housing for homeless families and individuals in the next five years. That is a far more prudent investment of public dollars than trying to maintain an unsustainably large shelter system."
Without more public housing, Tyus says, the city's plan to open 90 new shelters in five years will fail to ease homelessness.
"Homeless services should be providing homes," she says, "not just shelter from the rain."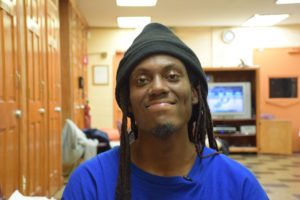 AUDIO PROFILE:
Go deeper into Isaiah's story – click the play button on the clip below to listen.
Click Below for Chapter 2: