by Barbara Yerkes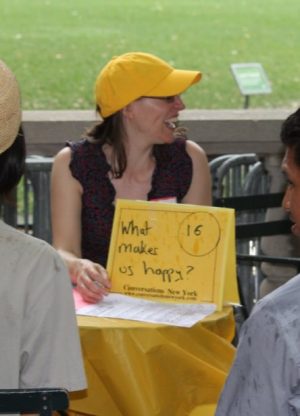 People eager to discuss a variety of topics gathered at Bryant Park in July to join Conversation Day, an annual event dedicated to bringing people together through in-person interactions.
Anyone who was interested in participating could simply get a nametag, check the board of topics, and join a table of other people willing to talk.
The organization running the event was "Conversations New York", whose goal is to encourage New Yorkers to engage in meaningful, face-to-face conversations to promote a better understanding of other humans and their perspectives. The nonprofit started in November 2012, and this was their third annual event.
Trained volunteers were stationed at each table to keep the conversations lively, and to make sure each participant was contributing.
Volunteer Sally Moses of Brooklyn said the appeal behind the conversations is that, "You can talk about anything and be as open as you want because you probably will never see the person again in a city like New York."
"We're celebrating the soul of New York. Our collective ideas, feelings, intuitions, hopes, concerns, anger" said Ronald Gross, founder and director of Conversations New York. "I would want (the participants) to get is a reminder that it's really fun and enjoyable and rewarding."
Conversations New York holds conversations every day in a smaller format, to encourage people daily to pursue more human interaction.
Related article: How Social is Social Media?