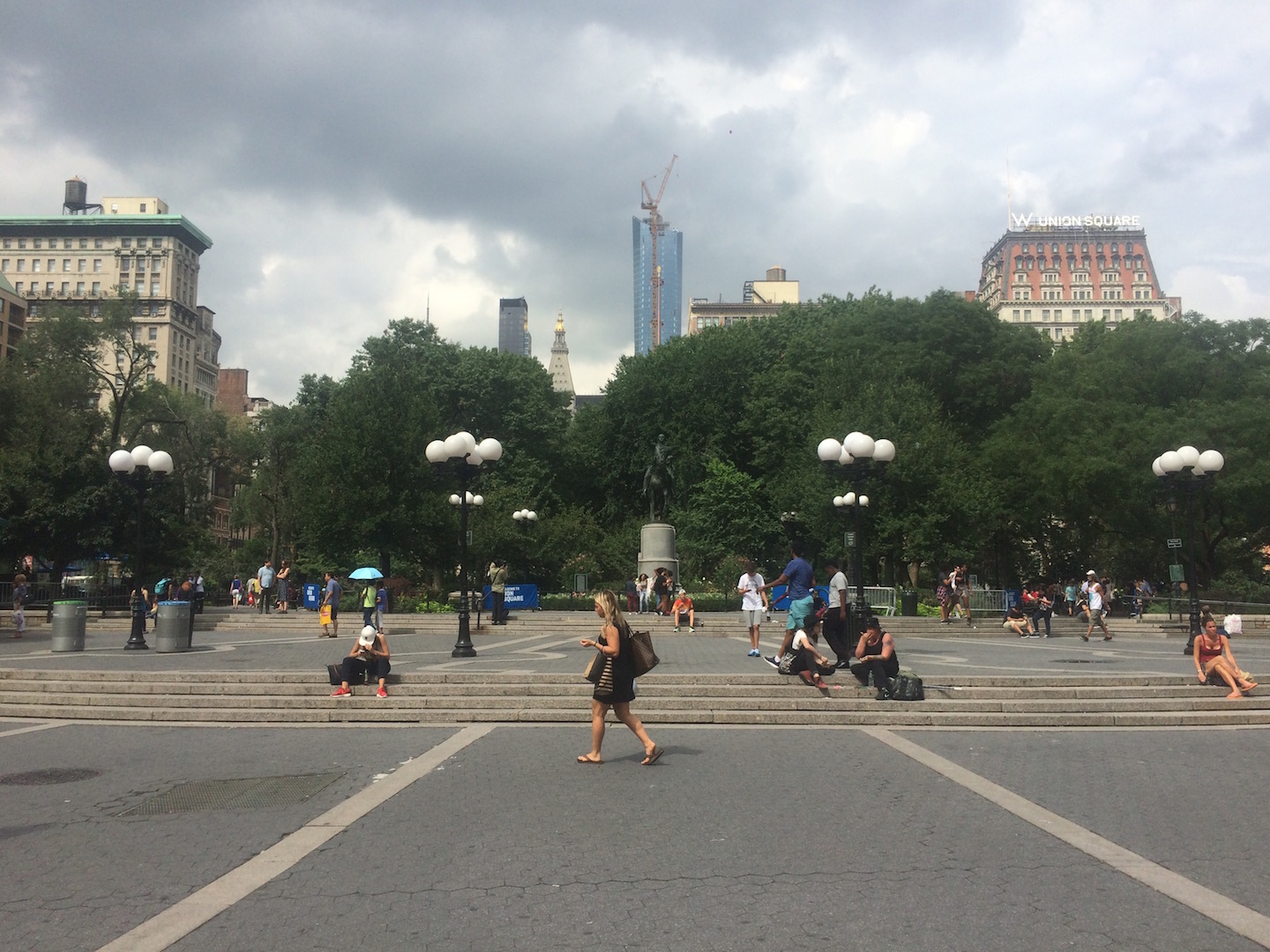 By Spencer Brown
In Union Square Park on beautiful summer day, the abundance of things to do is pleasing to see in New York City.
In the morning, business people are walking through the park to their commute. The chess players are just setting up their boards. The police officers are arriving with coffee in hand.
In fact, coffee is an important aspect of most people's mornings, and there are quite a few options.
"Personally, my place for coffee is Joe Coffee, it's a good place and they have delicious pastries," said Jillian of Harlem.    
Joe Coffee isn't the only place for high quality coffee, Think Coffee, Wayside, The Coffee Shop are all great options for ones morning coffee.
"I've been coming to get a coffee more often then before due to this heatwave, especially an iced coffee," said Andrea, a frequent coffee drinker.
For the brunch people, The Pavilion offers different styles of organic eggs as well as its savory pancakes and its eloquently delicious french toast. Along with its wonderful menu it also offers the perfect location of Union Square Park itself.
During the lunch hours, a flock of business people bring their lunches to the multiple benches in the park.
"Its a very relaxing place to be and to sit down and enjoy my lunch. Plus the fact that its right near my office" said Josh, 27, of Brooklyn.
According to an unofficial survey, 60% of the people that eat their lunches in Union Square Park bring their own lunch.
This is not due to their being plenty of options for food in the surrounding area for food; it's the cost of the food at these restaurants.
"I find that there are very few cost effective food options in this area, so i'd rather just bring my lunch four days and eat out one day," said Angela, of the Lower East Side.
A couple blocks away from the park, there are restaurants such as Dos Toros, Glaze Teriyaki, Bruno Pizza and plenty of other options stretching a wide range of cultures.
From 11:30 a.m. to 2:30 p.m. is when the park really starts to fill up. People come and eat their lunches, the chess players start having more people playing them, and the street performers show up to start their acts.
These chess players are usually very difficult to beat if you are the average chess player. The chess players are just trying to make some money, if you beat them they'll pay you, if they beat you, then you pay them.
"They're here all day and every day, they cause absolutely no trouble, just looking to play some chess," said a police officer.
In the mid to late afternoon is when couples start to arrive and have a picnic on the grass pitches. Workers come to the park for a post work read or to see a beautiful sunset.
For dinner, Ichabod's, ABC Kitchen, Le Midi and a host of other restaurants offer great meals with the abundant culture of Union Square.
"My favorite dinner place is Casa Mono, its great Spanish tapas, and its just a great place to go to and grab a delicious meal," said Jeremy, of Tribeca.
To top off a great day in union square with delicious meals and the great liveliness of Union Square, one needs to check out Chloe's Soft Serve Fruit Company for the best Ice Cream of the Union Square area.
Other Events of Union Square
The Brief Important History of Union Square
Celebrities Show Up for Environmental Cause