The East Village is full of cool and unique bars. There are bars with trendy décor and drink names, bars with secret entrances and incredible food. There are bars in the East Village with fun music and themes, and there are bars in the East Village with a barber shop in the back.
The black and white tile in the Blind Barber complimented with red, black and white seating indicated a retro vibe even before the weekend bar-goers flood in. The brown leather coaches provide comfortable seating for those who would like to have a quiet conversation with their pals and a drink.
I walked into the bar located closer to avenue B at 5:30 pm on a Thursday and made my way to the bar. The stools stood lonely as they braced for the incoming traffic of the local business men and women after a long day at work. The man standing behind the bar was exactly who I would have pictured in this type of place- a younger gentleman with hipster glasses and a mustache. Through the glass looking into the barber shop I could notice an older man getting his hair cut while sipping on some sort of whiskey drink.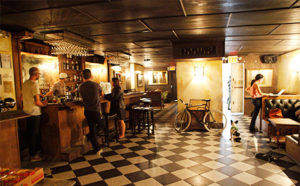 While most cocktails are over $10, each $40 haircut and $30 shave comes with a drink as well. "We get a lot of younger and older folk coming in here to kill two birds with one stone," said Adam Kirsch, the barman, "It's mindless to get a haircut while out having a drink. And it is a lot nicer than going out with the sole intention of getting a trim." However, there are perils to working so closely to an intoxicated man's head when the work includes such a sharp object.
"I didn't work at the Blind Barber for a long time," said Rudy Millan, on why he loves working at three seats, a barber/coffee shop combination. "I much prefer the conversations I can have with my relaxed clients who are not moving their heads around every couple of seconds."
However, the combination of a buzz cut and a cocktail provides the perfect atmosphere to relax for some. The ambiance that comes with the calmness of a cocktail and prestige of getting a haircut at a barbershop as opposed to "that dude on the corner of my block" is one that has a special power to put the mind at ease.
It's hard to fit a haircut into the day sometimes. The Blind Barber provides bar-goers with a chance to relax and enjoy their rum and cokes while defusing from a long work day or week.