On the North end of Tompkins Square park is a small three floor branch of the New York Public Library. The Tompkins Square Library first opened its doors in 1904. Here residents of the East Village can not only take advantage of the library's collection but the number of events that they host. In these events are free English classes to help non-native speakers improve upon their English skills. These skills include speaking, writing and reading.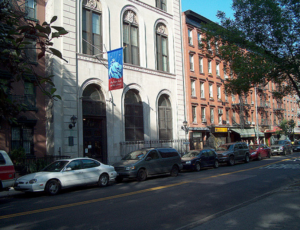 "We hold these sessions about three or four times a year," says library manager Corinne Neary. Each session is open to about 100 students. "This has always been one of our most popular classes but the demand has seemed to increase, says Neary, "A lot of students refer their friends and family who they know could also benefit."
Neary also pointed out that the demographic of the classes is very diverse. "We do not require documentation to take the class nor a specific reason," says Neary. Some students have shared with her that they just want to be able to fit in better while some have mentioned practicing for citizenship and other various immigration reasons.  
The classes typically run for a 10-week period and meet twice a week. The curriculum of each class does change slightly based on the students, as Neary pointed out.  "We do this as a service to our students, first and foremost," she says, "Because the classes are free we see fit to tailor them to the students at the time."  
Neary cites this as a reason why the classes have been a success. Students are able to learn in a non-intimidating environment a skill that they can put to great use in their everyday life. Moreover, different students may have different stakes in why they are coming to the classes. It is refreshing to see a neighborhood resource that is free for patrons who may be in need. The lack of questions about their intentions also creates a safe, welcoming environment.
The next session of classes will begin on April 24, 2017 and run through June 30, 2017 for their denoted Spring 2017 session. As for the rest of the year the library is also hosting sessions in the Summer and Fall that are already scheduled.