By Chenyi Zhao
Spectrum technicians have been on strike for more than 130 days, as of August 8.
"We don't want money. We just want our pensions and medical plan back," said the strike captain on Broadway and East 4th Street, on behalf of the idled technicians.
Local Union 3 of the International Brotherhood of Electrical Workers, representing 1,800 employees of Charter Communications/Spectrum, has been on strike since March 28 against alleged unfair labor practices.
Spectrum is a TV, internet and phone services provider. It is owned by Charter Communications, which merged with Time Warner Cable and Bright House Networks in 2016.
Several negotiation sessions have been held. In one of the recent negotiations, Charter offered "an average 22-percent wage increase — some employees up to a 55-percent wage increase — and comprehensive retirement and health benefits, including a 401(k) that provides a dollar-for-dollar match up to 6 percent of eligible pay," according to a Charter spokesperson.
"This competitive offer will have a positive, lasting impact on employees' standard of living and allows us to grow a well-paid, highly skilled workforce for the benefit of our customers," the spokesman said.
The union and Charter met again for negotiations on August 7, accompanied by a federal mediator. According to the union, the company refused to negotiate pensions and medical coverage. The company said that they do not comment on the details of the negotiation.
The workers will stay on strike until they get the union pensions and health care back. IBEW Local 3 business manager Chris Erickson said in a LaborPress broadcast that the company offered more money than the union was asking for, but the union members would lose medical benefits and the union pension fund.
A personal injury attorney for workers, Neil Kalra, said, "it's the uncertainty that they have to deal with for the rest of their lives."
The union has been advocating members reject to Spectrum's offer. One post in the official union blog NYCableTruth said, "do the right thing and just say no to modern day slavery and corporate greed!"
The members will vote on whether getting back to Spectrum if the union reaches a consensus with Spectrum, according to the strike captain Robert Kersten.
A member picketing the Spectrum payment center on East 8th Street said that people had to get jobs elsewhere, so the number of workers protesting on a daily basis has been declining.
The union business manager Erickson said in the broadcast, "I believe [Charter/Spectrum] is trying to starve our members into submission here."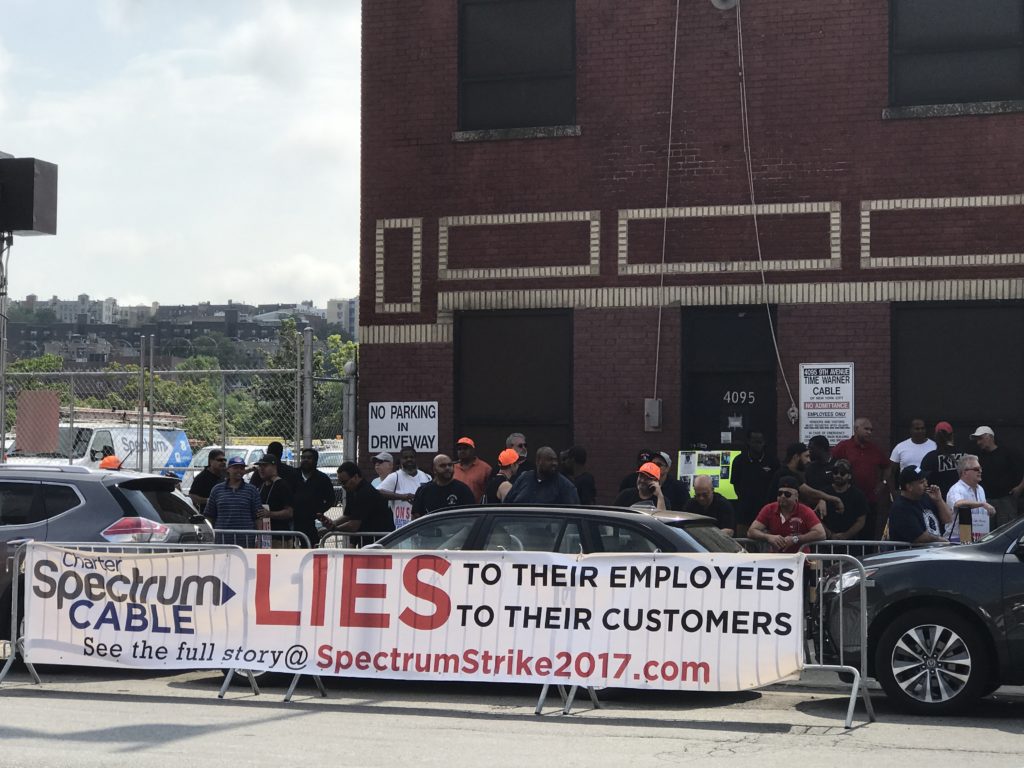 The union said that workers had been working without a proper contract since 2013, but the Charter spokesperson said that they were working under a contract that expired March 31 this year.
They chose to go on strike March 28, two days before the contract expired, Charter said. Kerston responded that the contract was not agreed by the union.
The union also said Spectrum "disciplined its technicians over repeat service calls …over unobtainable WiFi internet speeds," and "does not provide proper training or promotions to its technicians."
The Charter spokesman said that the claims had no basis.
One post on the blog said, "Charter/Spectrum is not willing to bargain in good faith." The Charter spokesman said that Charter is ready to negotiate at any time.
Spectrum Lawsuit
New York State Attorney General on behalf of 5 million customers announced a lawsuit on February 1 against Charter Communications/Spectrum for allegedly misleading customers by promising high-speed internet service that was knowingly inaccessible, according to the Attorney General's website.
"The allegations in today's lawsuit confirm what millions of New Yorkers have long suspected — Spectrum-Time Warner Cable has been ripping you off," said New York State Attorney General Eric Schneiderman.
A 16-month investigation by the Attorney General's office indicated that the wired internet speed of the subscribers was up to 70% lower than advertised, with WiFi speed up to 80% lower, according to Schneiderman.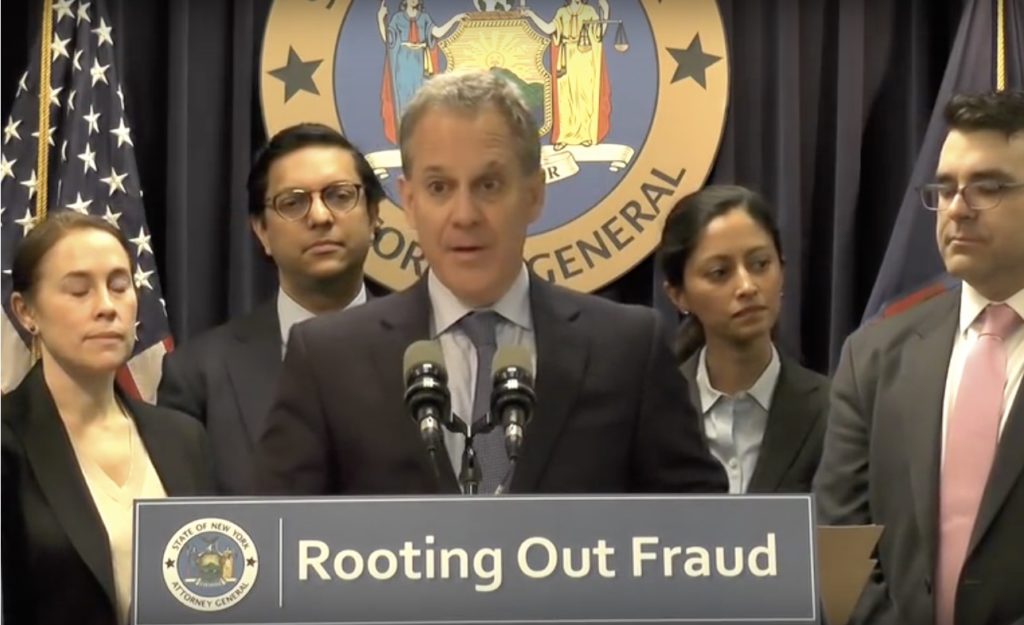 The complaint also accused Spectrum of failing to upgrade the internet provider's network capacity and replace large numbers of deficient modems and wireless routers, the Attorney General said.
The spokesman of Spectrum said, "Charter has already made substantial investments in the interest of upgrading the Time Warner Cable systems and delivering the best possible experience to customers."
Spectrum provides approximately 2.5 million subscribers with Internet services in New York State, and the complaint covers the subscription of almost 5 million people in the relevant period, Schneiderman said during a press conference earlier this year.
The company said in their official statement that the internet speed advertisements "occurred prior to Charter's merger."
The Attorney General said in his press conference, "the name of the company may have changed from Time Warner to Spectrum but the company has not changed its pattern of providing slower speeds than advertised."
"We will continue to invest in our business and deliver the highest quality services to our customers while we defend against these allegations involving Time Warner Cable practice," the company's spokesman said.
On the Picket Line
Whistles and trumpets blown, flags and fliers waved. The Spectrum protesters were trying to grab attentions from passers-by.
There are 14 picket locations in NYC and 1 garage in Bergen, N.J., according to one of the captains, Robert Kersten. All these are near a Spectrum payment or storage center. In the past three weeks, the union held about two rallies every week in a chosen location to get the scattered picketers together in one place.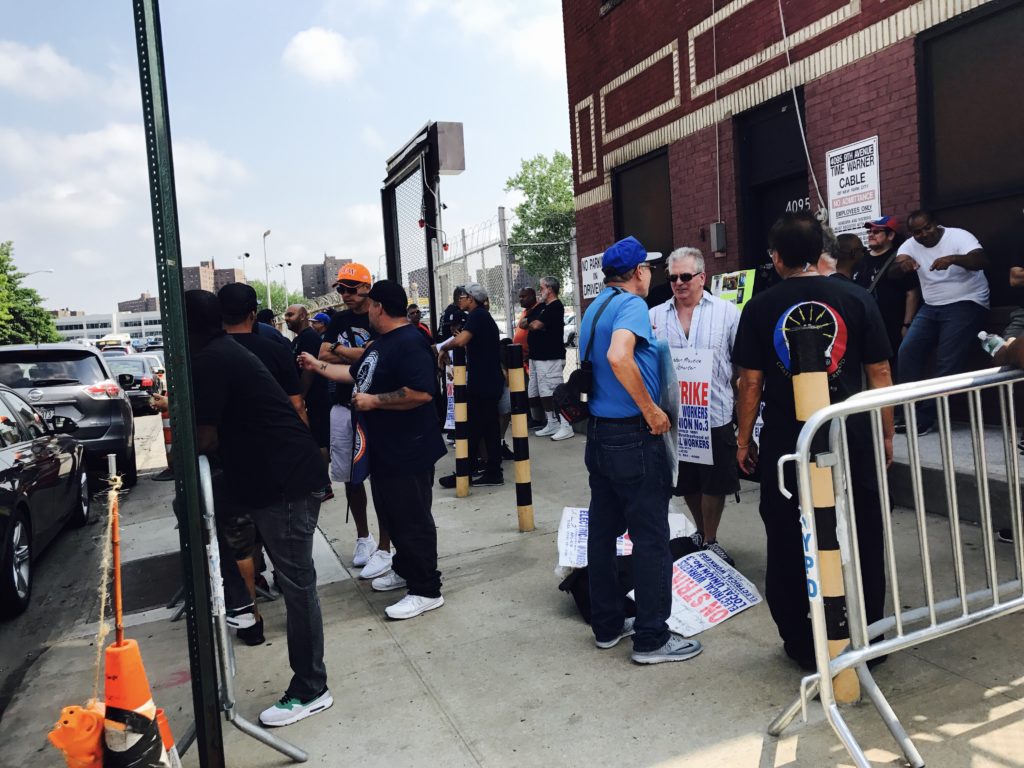 The strikers are doing more than picketing. Picketers handed out flyers in front of the doors of Spectrum payment centers and asked people to support their strike.
On East 8th Street, the picketers grabbed a visitor's attention. Several hesitating new comers came to the picket line to get more information about the company and services.
The fliers that strikers handed out said that Spectrum had been using subcontractors and warned customers to demand Spectrum's own technicians for customer service.
Spectrum's spokesman said that it is impossible to use the company's own technicians if they are all on strike.
Chenyi Zhao is a high school student from Qingdao, China.