By Shucong Zhou
                           Chinatown in Manhattan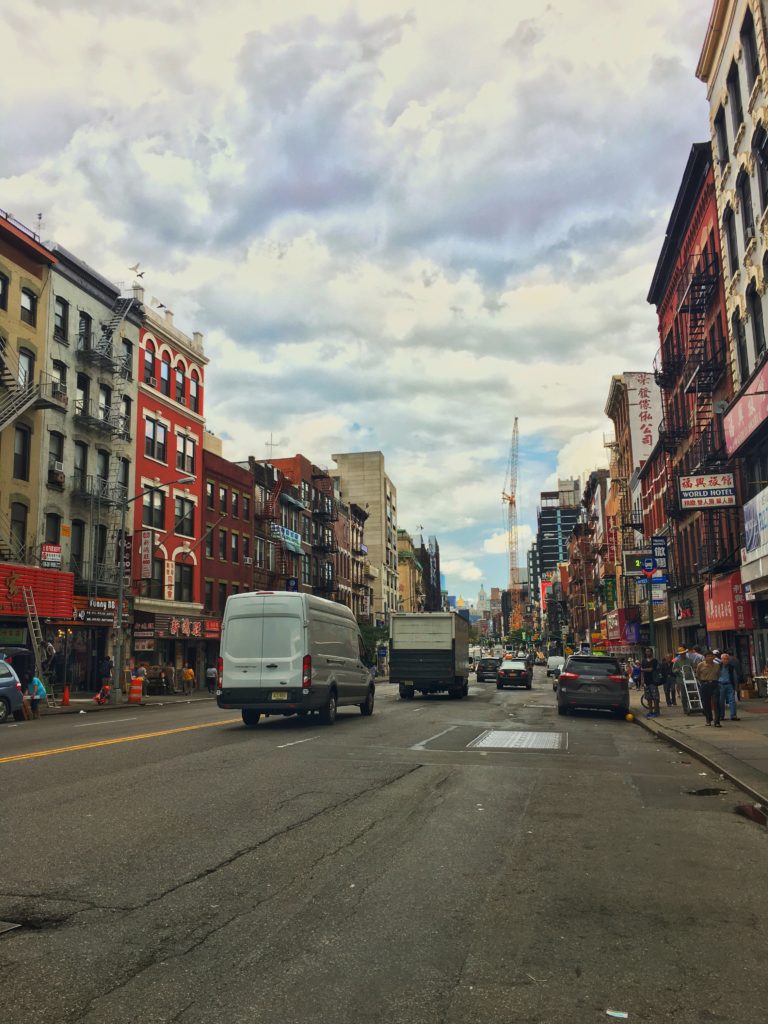 Chinatown is a lively neighborhood in Lower Manhattan, New York . With an estimated population of 90,000 to 100,000 people, Manhattan'sChinatown is also one of the oldest Chinese ethnic enclaves in New York.
        Souvenir shops and exotic restaurants greet visitors when they step out of the Canal Street subway station. It comprises the area south of Broome Street and east of Lafayette Street and makes people feel like they are entering a different continent.
        The first Chinese immigrants arrived in New York in small numbers in the 18th century. Not until the mid 19th century did a significant number of Chinese move to the East Coast and settle in New York.
        Chinatown has become a place with well-preserved Chinese culture as well as a place with mixed culture. In addition to traditional mainland Chinese food like dumplings and Peking duck, Chinatown is embracing many more kinds of cuisines like dishes from Hong Kong, India and Vietnam.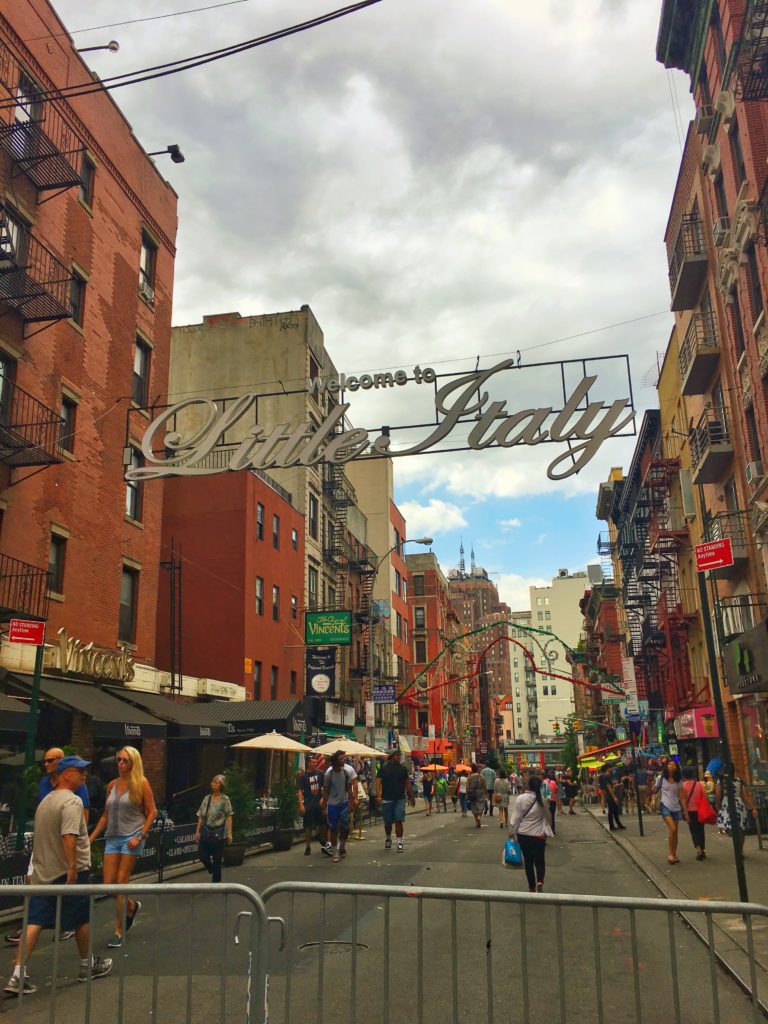 As Chinatown expands, it is moving into the neighborhood known as Little Italy.    
       "I am so happy to find out there is the Little Italy in Chinatown. I can taste both Chinese food and Italian food whatever I want. 
        That's so great," said Mary, a visitor in Chinatown.
        There are many opportunities for tourists to get fully involved in Chinese culture.
       Mahayana Buddhist Temple is a center of Buddhism in Chinatown and it has the largest statue of Buddha in New York City. The main worshiping area provides tourists a great place to pray for good luck for their friends and family.
      "We believe in Buddhism and think he can bring fortune for us. Every Sunday morning we come here and join in the Buddhist ceremony. We have been doing this for three years, and we are pious followers," said Wen Yue and her daughter, both residents in Chinatown.   
              The Museum of Chinese in America
       The Museum of Chinese in America (MOCA) at 215 Centre Street was founded in 1980. It is dedicated to preserving and presenting the history, heritage, culture and diverse experiences of people of Chinese descent in the United States.
        The Museum of Chinese in America has amassed a nationally-significant collection of materials documenting Chinese life in America. It was described by the Smithsonian as " a cultural rescue mission to save a little-known immigrant heritage".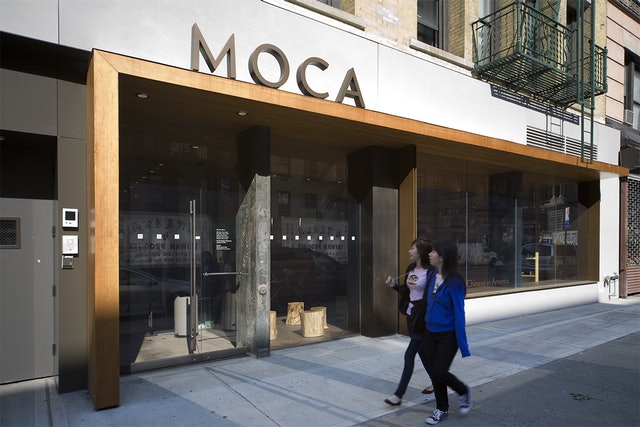 "I came to MOCA today because I think it will help me relate the history of Chinatown with my own family history," said Mary Pan, 20, a Chinese immigrant to New York who was visiting MOCA.
         MOCA's Collections and Research Center has more than 65,000 artifacts, photos, memorabilia, documents, oral histories, and art work.
         MOCA's educational programs and workshops aim to provide residents in  Chinatown and visitors better opportunities for deeper engagement with the history and contemporary community issues.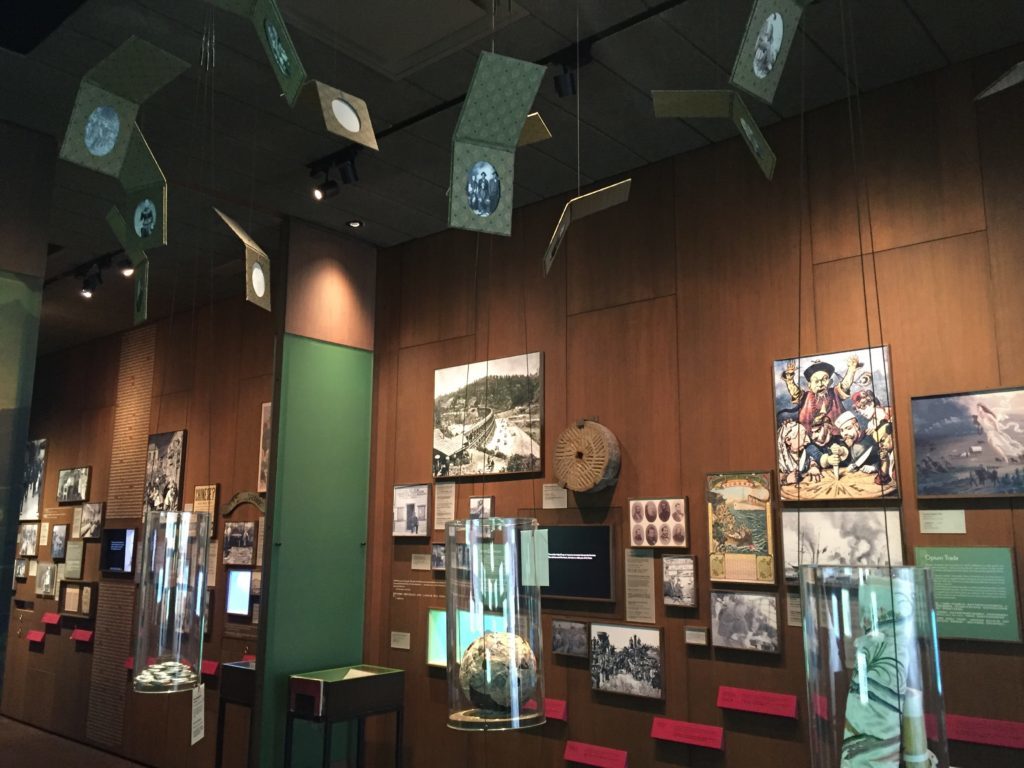 "I have been working in this museum for three years. We work as a workshop and provide educating programs to engage participants in an active learning process. We want to make the history alive, and instill a love for lifelong learning," said Sam Guo, an educator in MOCA.                                                  
A Glimpse into the Chinese Community
       Columbus Park, formerly known as Mulberry Bend Park, is a public park on 67 Mulberry Street in Chinatown, Manhattan, New York.
       At Columbus Park in Chinatown, visitors can get a glimpse of the diversity of the neighborhood, especially on weekends.
      There are amateur Chinese opera troupes performing in the park, residents playing mahjong and cards, folks practicing tai chi and learning kung fu, and the stray fortune-teller or two.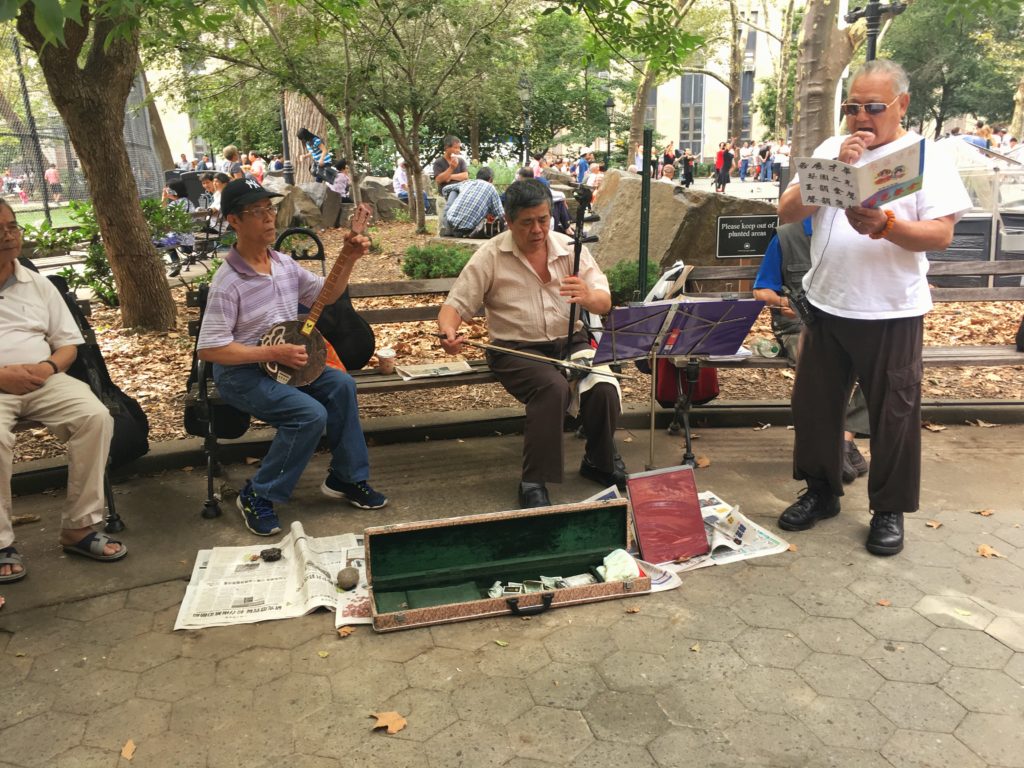 "Every weekend I come to the Columbus Park. There are always a lot of things to do here. The facilities are basic, but the atmosphere is just wonderful," said Zhang, a resident living in Chinatown for two years.
        Columbus Park is separated into two parts. The north part is for older Chinese people playing musical instruments or card games. The south part is for children and there is a playground with all kinds of facilities.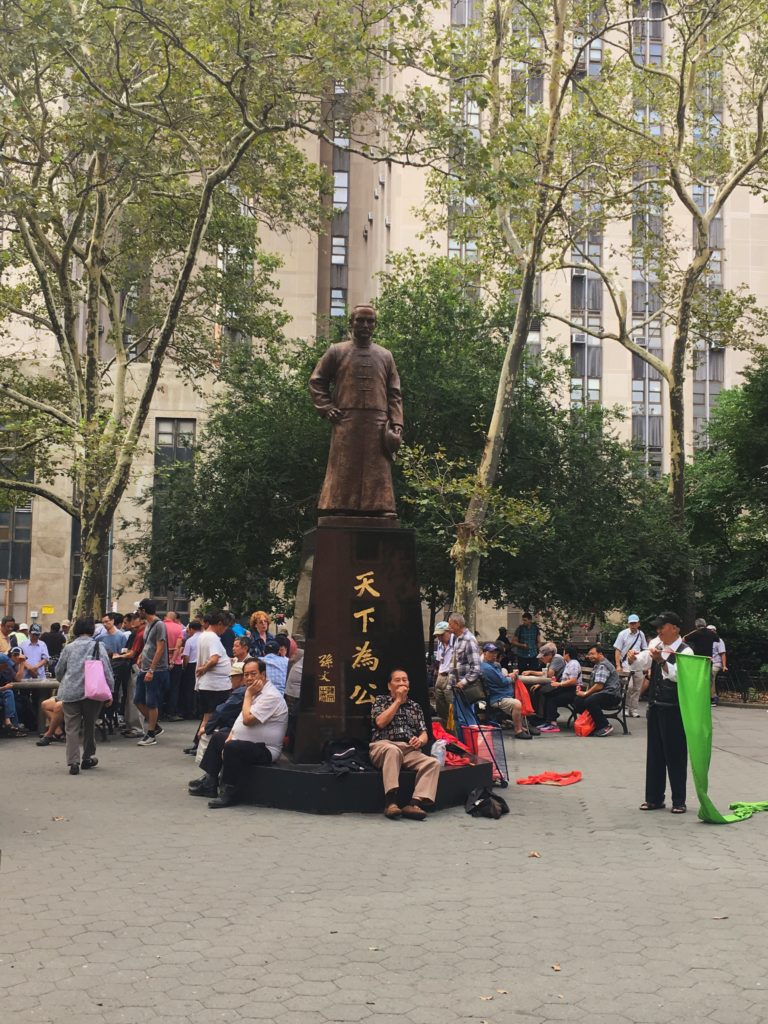 "I love to see children playing here. It is quite relaxing here and seeing Chinese children and the American children getting along well and playing together is very interesting. I saw the Chinese children taught the American how to play PIng-Pong," said Bill, a New Yorker.
        There is also a statue honoring Dr. Sun Yatsen, the leader of the 1911 Chinese revolution in the northern part of the park.
Authentic Chinese Food in Chinatown
         Lots of the so called Chinese food in Chinatown are different from the authentic Chinese food in China. Some of the restaurants changed their cooking styles to better fit the taste of foreigners.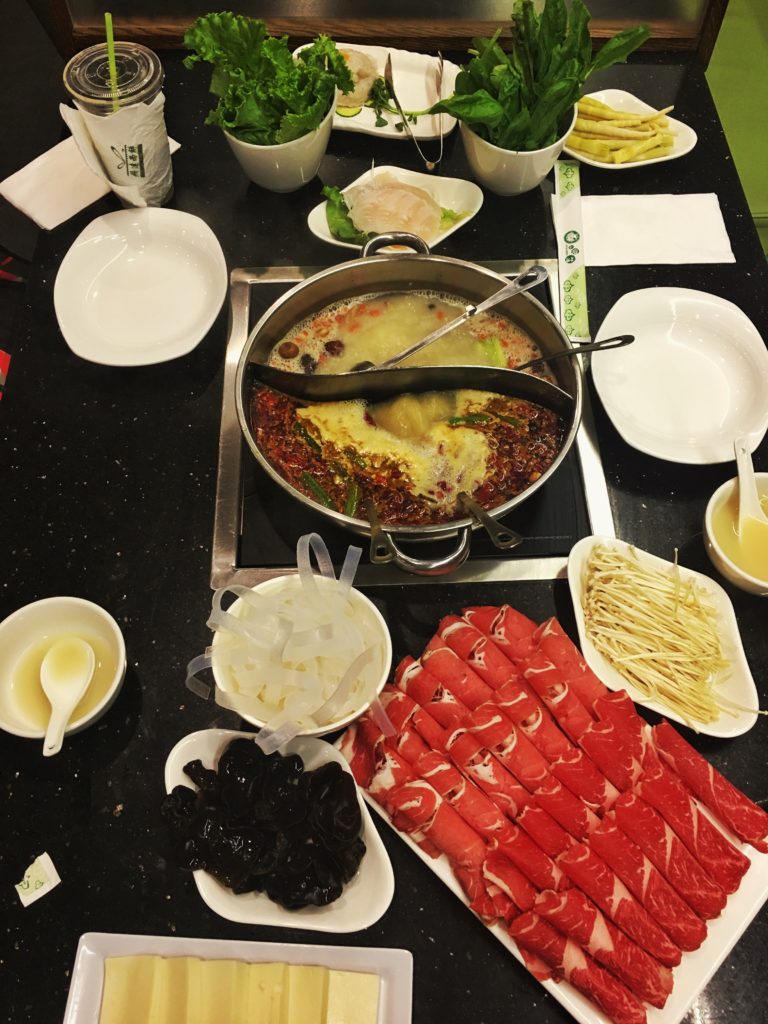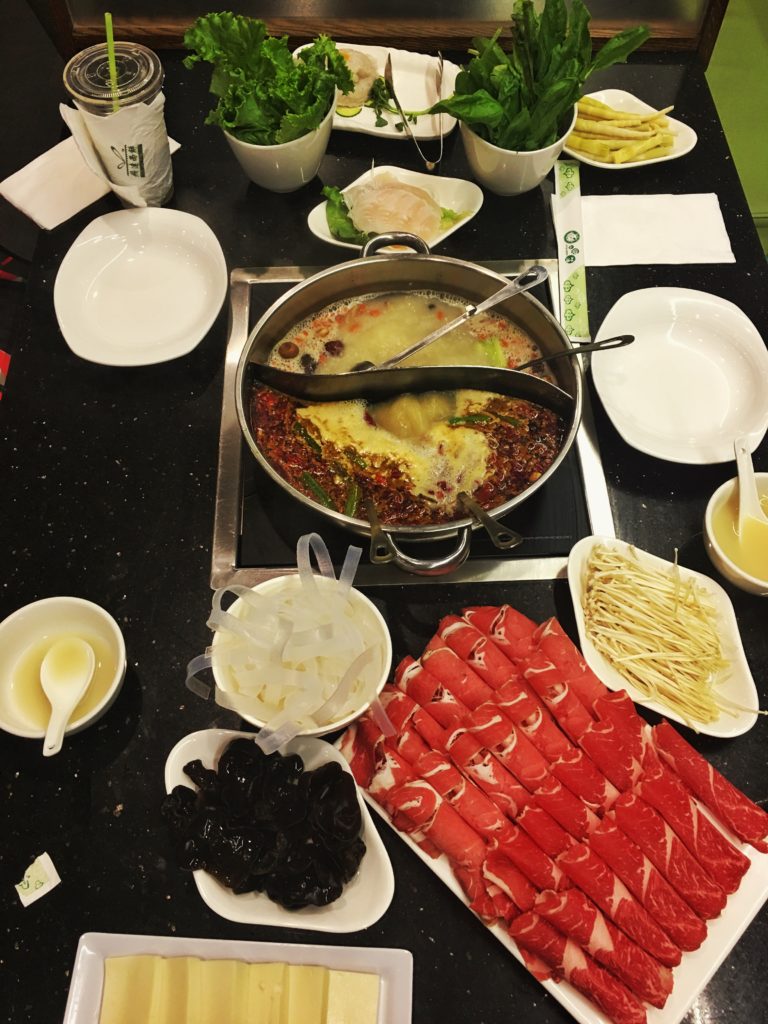 However, there are some Chinese food in Chinatown that taste just the same as they do in China.
        Little Sheep Mongolian Hot Pot at 105 Bowery is a restaurant with a mission to introduce Mongolian culture and food to North America.
        "What is so special and delicious is our broth, which is prepared for more than 8 hours with a variety of herbs and spices. It tastes the same as it does in China because we apply the same method to make the broth," said Zheng Yan, a waitress in the restaurant.
       Dim Sum Go Go is another Chinese restaurant on 5 East Broadway in Chinatown. It serves Cantonese food, a cuisine from  Southern China.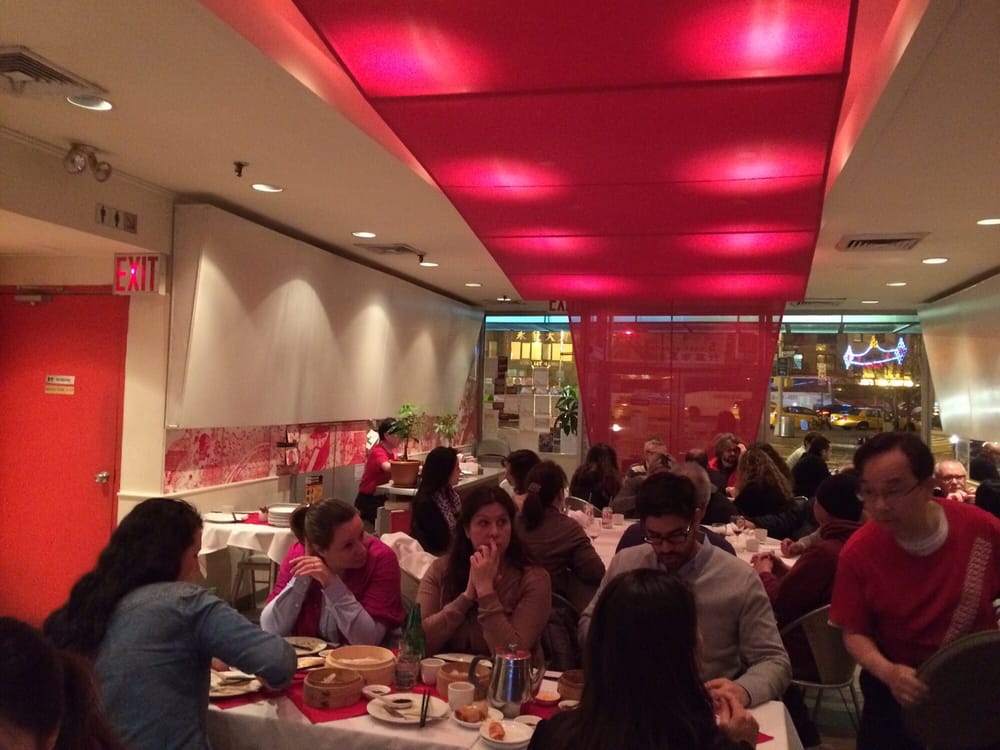 "I went to China two years ago and that was the first time I tried the Dim Sum with my family. I was so happy when I found the same dishes in Chinatown. I love Har Gow and Chueng Fun very much," said Jimmy Scarano, a New Yorker.
SHUCONG ZHOU is a senior high school student from Beijing, China.