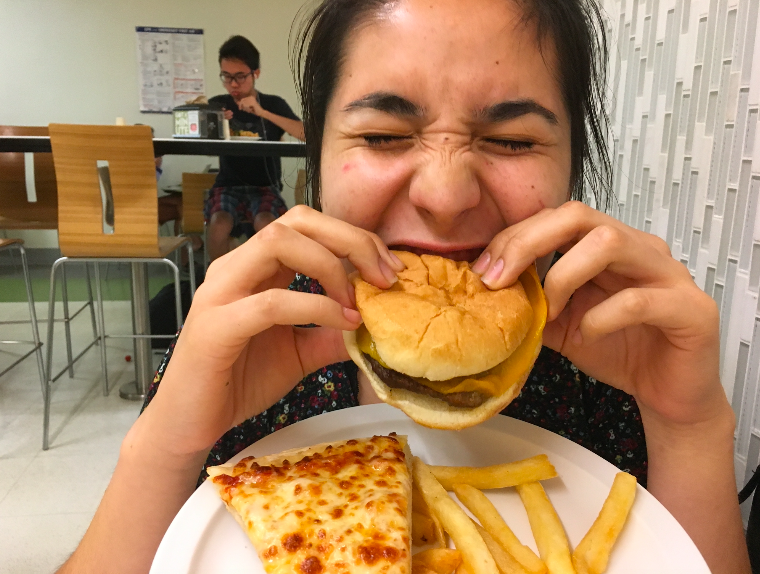 By Izzy Blansfield
The "freshman 15" is no urban legend for New York University students. The temptations, expenses and struggles of New York City living along all-access buffets, is no help to the 15 pounds often gained during freshman year of college.
Staying healthy as a college student is more difficult than it may seem. Many NYU students said they have a hard time dealing with it while juggling their personal lives and their academics.
Staying "healthy" means getting the right nutrients that our bodies need along with daily exercise and staying away from junk food and germs at all costs.
Healthline.com explains the benefits of eating right, which apply directly to college students. Eating right boosts energy, improves mood, combats disease and controls weight.
"Being with people 24/7 gets viruses spreading throughout the dorms really fast. I mean I was only here for six weeks and I got sick," said NYU summer Precollege student Alexa Alvarez.
When students first gain the independence of coming to college they can overlook all the nagging and guidance that came from their parents.
Without the constant reminders to "get your protein," people forget about all the things their body needs to stay fueled.
"Sometimes I just forget to get the extra necessities. Whenever I don't have enough water or protein, I can't focus and it definitely affects my work ethics in class, " said NYU Precollege student Landis Urquhart.
Besides that, the transition from high school to college can be extremely difficult and many students resort to food as a stress reducer and comforter.
"Sometimes I'll resort to a bag of chips or a candy bar to keep myself high on sugar when dealing with the stresses of school or preparing for a big test," said rising NYU junior, Christina Choe.
The concept "freshman 15," regarding the 15 pounds often gained during a college student's freshman year, definitely is not over exaggerated
In fact, "nearly one in four freshmen gain at least 5% of their body weight, an average of 10 pounds, during their first semester," according to WebMD.
NYU junior Christina Choe said, "I gained roughly 5 to 10 pounds my freshman year, due to eating in dining halls for every meal and lacking self control."
Living in the city as a college student can be doubly dangerous due to the high costs of city living, especially groceries.
Over the course of the four years of college plus all the other expenses of attending NYU, which is the country's most expensive college, the costs add up.
NYU junior Madeleine Perlmutter said, "I usually spend around $50-70 dollars over the course of two weeks, at the food store."
For more on Inexpensive Eating