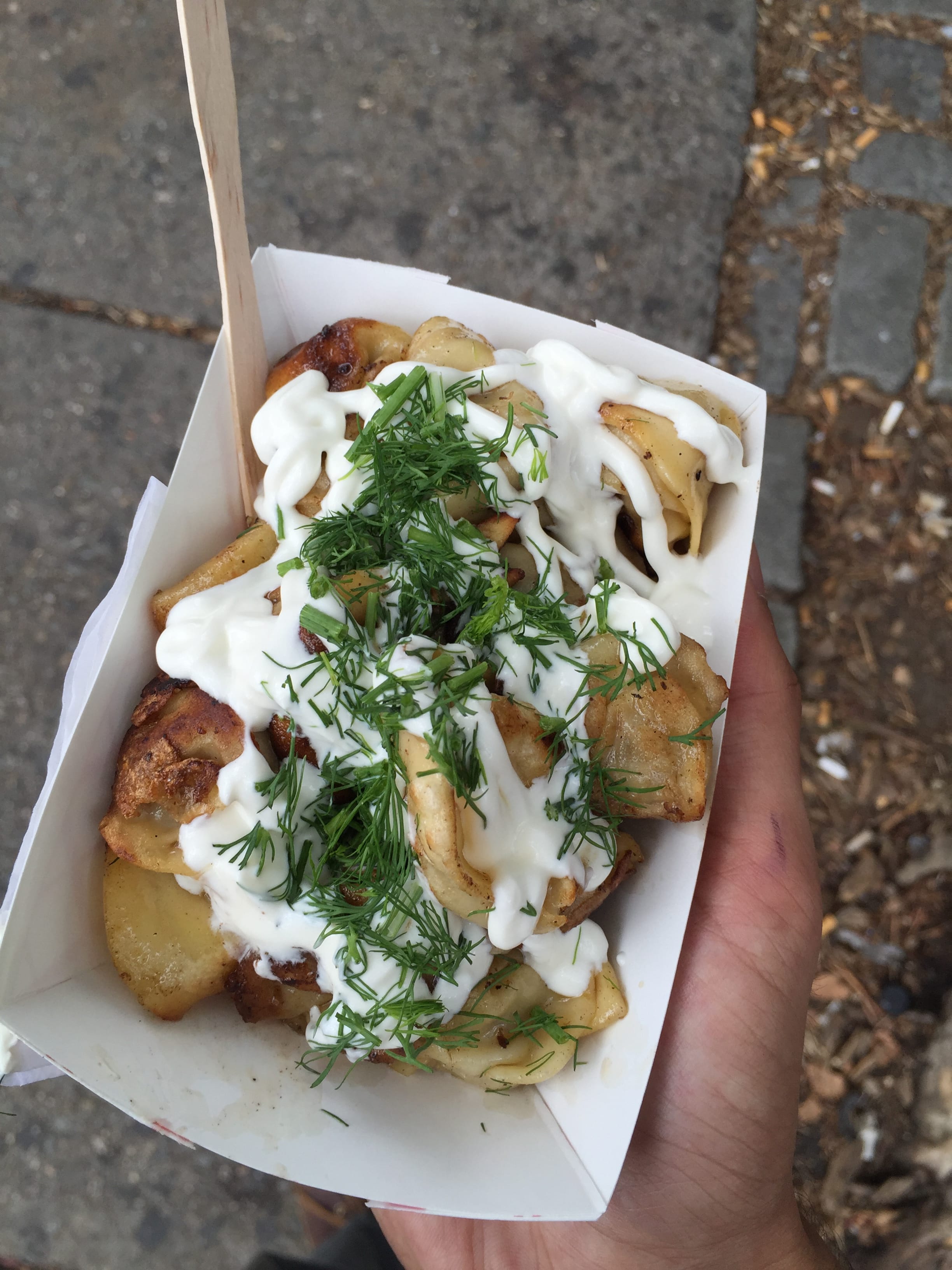 Russian styled dumplings with toppings of dill and sour cream
by Rakeeb Alam
It's lunchtime and you're starving. The café you frequent is too far away, but the scent of a gyro food cart drifts down the street and solves your lunchtime dilemma.
Your favorite food cart down the block has always been serving up tasty food when you need it, but how exactly did it get a permit to do so?
Every food cart or vendor must meet certain health standards to get a permit issued by the City of New York.
That permit is then displayed on the cart, and another, smaller copy must be worn by the worker.
The permit itself costs up to $200 when obtained from the city. However, despite the city ruling that renting permits out is illegal, vendors may pay exponentially higher for those permits.
"It's easy to sell once you get a permit," said one worker of a smoothie food cart, "But, the permit cost me $12,000." He declined to say where he obtained his permit.
The city issues a limited amount of permits per year, a total of around 5,100 according to the New York City Health Department.
Yet there are many more applicants than there are permits, and so the cost and competitiveness required to get a permit is monumental.
"It was five years for me [to obtain a permit]," said one worker at a Sabrett hot dog stand. He also said his stand has been in business for 10 years. His main customers are the droves of tourists that filter through 6th Avenue and 53rd Street.
The processes of getting one directly from the city is very lengthy, due to the large pool of applicants trying to vie for 5,100 permits.
Many of the allowed permits for the year have already been issued, creating long waitlists for a single permit.
Some of those issued permits only allow for seasonal vending and produce sales, or specialized vending such as ice cream trucks.
The city has attempted to curb the number and density of food carts in the city, instead promoting open markets and fruit carts with more easily obtained permits.
Another way to avoid the long wait list is to obtain a restricted area food cart permit, where a seller can vend on private property with specific permission from the owner of the property.