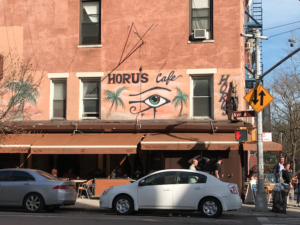 With a website littered with spelling errors and lacking any real information, the Horus Café on A doesn't create a staggering first impression. The small location placed on 10 Street between Avenue A and B can be easily overlooked. However, it's the dynamic that varies between day and night that makes this spot noteworthy.
"It's pretty uneventful here during the day," Cindy Barretti, 34, said.
Barretti comes to the Horus Café on A on Thursday evenings with her girlfriends for a night out. She gushes about the hummus, hookah and belly dancer that make an appearance. According to her, the Café has a completely different atmosphere during the night hours.
At 11 a.m. on a Tuesday, not much is happening. There are two other tables occupied; everyone attentively chipping away at their food. The waitress returns to refill my water glass, I smile at her pleasantly, pay the bill and leave. I plan on returning later that night.
There are few restaurant locations that can undergo a complete transformation from day to night and draw a totally different crowd and atmosphere. The Horus Café on A fits the bill.
"You're in for a real treat later," my waiter said as he seated me at 10:30 p.m.
My friends and I look around and stunned because it was as if I was in an entirely new restaurant. The lights were dimmed, the music was blaring and smoke encompassed the entire space. This modest breakfast spot has transformed into a captivating hookah bar.
Drinks are flowing and our party is enjoying the hookah. As the night presses on, the crowd doesn't start to thin out. People continue to pile in, and as one table finishes up, another group is quickly seated.
This pattern continues until everyone turns his or her attention to the mesmerizing and mystifying image in the corner. It's a belly dancer, in the middle of a breakfast joint turned hookah lounge on 10 Street- certainly an interesting concept.
She twirls and sways to the thunderous music and soon enough a man from a neighboring table joins her. They awkwardly dance together as the crowd cheers them on. After he's had his fix, he returns to his seat and resumes drinking his drink. The belly dancer, a truly entrancing sight, entertains the crowd and eventually disappears after some time.
The Horus Café is open until 4 a.m. but we start winding down around 1:30. We say our goodbyes and part ways.
The waiter from earlier had a point; I didn't realize the full extent of the interesting night that lied ahead. Not many hookah bars bring in a belly dancer, let alone completely transform from a breakfast spot. The ability to execute both is what is so intriguing about this location.
There are loyal customers, like Barretti, who return for the exciting night that is guaranteed. This small gem may be unassuming by day, but by night, it is as enthralling as ever.