By Zhu Jude Yue
The lines between genders are being intentionally blurred by fashion designers. As a result, it will be more difficult to judge someone's gender only based on their appearance. This September, we will welcome Fall with the bloom of gender-fluidity.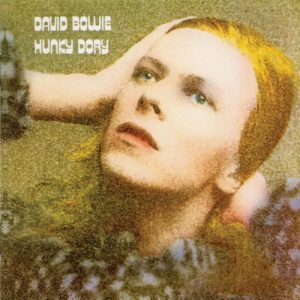 Gender-fluidity is a fashion style featuring the mixture of the attributes of both genders' traditional ways of dressing while making something new. It used to be considered to be a "sub-culture," and there were always people engaging in this style to iconize themselves.
David Bowie, the late British singer, is believed to be the influence of many contemporary artists, not only musically, but also visually with his fuzzy gender identities and sexual orientation. He put on feminine make up on the cover of his album "Hunky Dory," which is described by AllMusic as a "cinematic mélange of high and low art and ambiguous sexuality."
In Hollywood, Miley Cyrus is accepted by the public as a contemporary representative of gender-fluid. Cyrus told TIME that she does not feel comfortable in either traditional gender boxes or gender-fluid, but she is fine with being identified as the latter for now.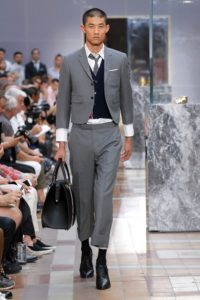 Thom Browne, the three-time Council of Fashion Designers of America awards celebrated designer from New York, is famous for his gender-fluid clothing. In his 2018 spring/summer collection, he put a male model in a gray pencil dress. He designed purses, high heels and white wedding dresses for men's wear.
For women's wear, he presented the public with short-haired models wearing suits and ties. This collection received generally positive reviews for its fabrics and his concept of gender-fluidity.
The inspiration for the designer's spring collection is "the idea that when you are a baby you wear pretty much the same clothing as your brothers and sisters," based on a Vogue runway report.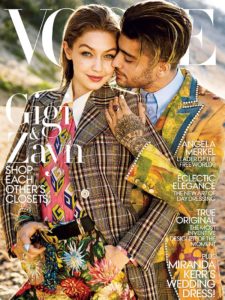 The latest issue of Vogue had model Gigi Hadid and her boyfriend Zayn Malik on the cover, where we can find some clues of non-binary dressing trend. This cover is titled with "Gigi & Zayn: Shop Each Other's Closets". These two cover stars were wearing similar suits and sportswear from fashion houses like Gucci and Burberry, which made it evident that the spirit of gender-fluidity is taking over the fashion industry.
Apart from high-fashion designers, mass market retailers like H&M and Zara are also involved in this trend by providing unisex wear. Ann Greyson is a saleswoman who works for the H&M on the Fifth Avenue, New York. She said that this store holds every single item that H&M produces, including all the unisex clothing.
"We are trying to catch up with the trend but with more decent prices," said Ann, "and we want our customers to feel free to shop for whatever they feel like wearing."
Dam, a Latino teenage boy in the NYU Precollege program, wears unisex clothes on a daily basis.
"High fashion is not accessible to us. But those retailers enable me to dress up the way I want in an affordable way," said Dam, wearing a black blouse. "By the way, it feels free to be myself."
Zhu Jude Yue is a student journalist in the NYU Precollege program who goes to Nanjing Foreign Language School in China, and this report is written in summer, 2017.
---
I naturally connect gender-fluidity with a relevant word, transgender. Transgender people were active in the fight for queers' rights. Sylvia Rivera, a transgender woman, was one of the leaders of the Stonewall Riot, and once shouted for "gay power" in Washington Square Park in New York.
President Trump's recent tweets about reinstating a ban on transgender troops might have become a turning point in the history of LGBT rights. There were demonstrators gathering to protest against Trump's ban in various spots in New York, according to an online report by ABC News.
Celebrities also declared their support for trans' rights on social media.
Though we cannot tell by now, decades later, historians might see this incidence as a milestone which marked transgender people's entrance into the mainstream. Fashion designers noticed the need for a more tolerant and transgender-friendly style. As they weaken the traditional sexual identities between male and female and blur the lines of limits, designers like Thom Browne are trying to popularize a kind of clothing style which tells transgender people: "You are not different."