By Rohan Butani
Washington Square Park in the East Village of Manhattan, New York, is a hub for musicians and their fans.  According to a recent unofficial survey, many of these artists perform here to practice their music for other jobs that they have at clubs and other venues.  A lot of the music is jazz, played on  instruments ranging from a saxophone to even a grand piano.
Adam H. plays jazz saxophone with a group including a bassist and a percussionist.
Adam chose to perform in Washington Square Park as opposed to other parks because of its acclaim as a performer's park, he said.  He also chose to perform here because you, "don't get fined," he said.
He hopes to play professionally one day but until then he uses the park as a place to practice with his band and have fun.
Adam wants to continue playing music as long as he can support himself.  He also wants to one day teach sax at a university.  Right now, Adam, like other artists who perform in Washington Square Park, has jobs outside of performing.  Adam does music tech, performs, and teaches small kids in Westchester County.
Adam said he makes about $40-$50 during weekdays with a group of three to four people playing for five hours at a time.  On weekends, he said that he makes $70-$100.
Tina P., a trombone player in Washington Square Park, can be found alongside another percussionist but also plays solo.
She performs in Washington Square Park because of her friend who has performed here for almost 30 years.  She said that she likes the vibe of the park and she likes that everyone in the park is great at playing their music.
She performs in Washington Square Park in order to develop her music.  She said she also hopes to collaborate with other musicians in Washington Square Park.
In addition, she performs her music at various clubs.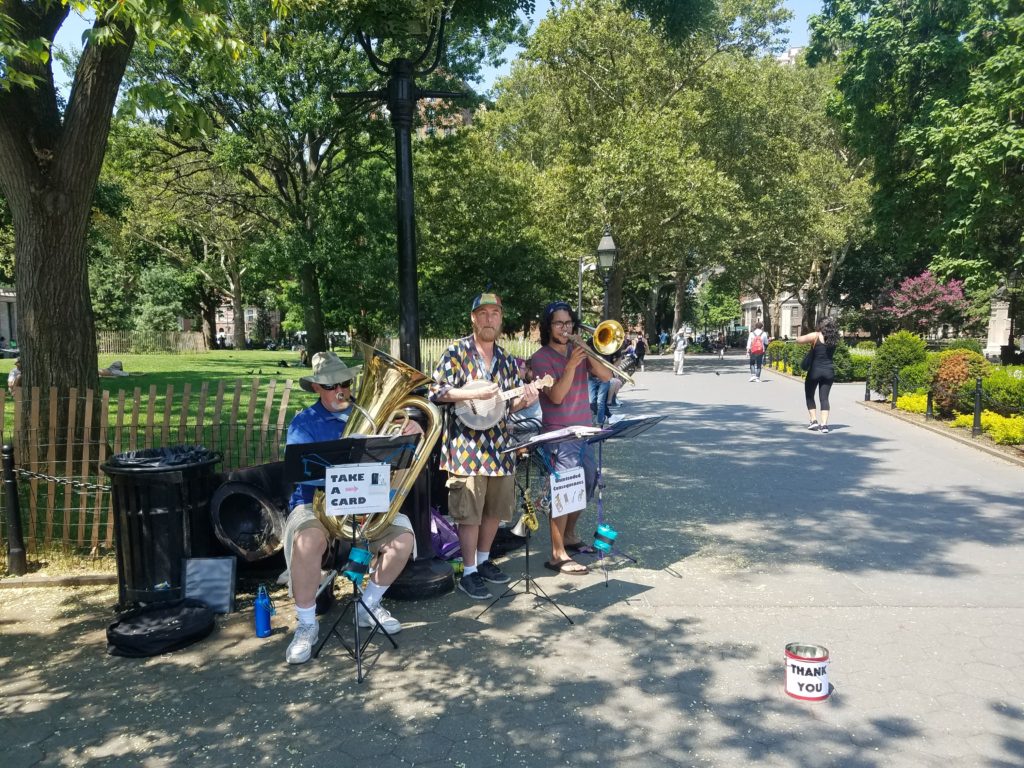 Alan G. is a tuba player for a group called "Unintended Consequences."
Alan said that he plays in Washington Square Park because it, "is the only New York City park where you are allowed to busk without a permit."  He said that the park is exempt from this rule probably because of the tradition of performing there.  He finds the positive reaction of his audience in the park to be very gratifying.
Alan plays in the park for fun and is, "basically retired."  He said that people do approach his group about performing at various venues.  He and his group are also working towards releasing music online although, he said that the real goal for him and his group is, "to continue to be able to perform."
He said that the group refers to their earnings as "beer money" and is often enough for "incidental expenses."
Another member of "Unintended Consequences," Matthew B., plays percussion.
Matthew said that the audience has a positive reaction to him and his group's music.
They are not looking to be picked up by a label but rather are playing because it is fun, he said.
Matthew is an aspiring choreographer and he draws on his experience in Washington Square Park playing as a percussionist for a better understanding of rhythm.  He danced professionally for years performing ballet, concert dance, and musical theater and he even spent some time as, "a main character/featured dancer for a Cirque du Soleil tour."
He, too, is not in it for the money.  Tips for a day have ranged from $20 to about $85.
How Much Does Each Artist Make in Tips?

Adam H.:        Weekdays: $40-$50 Weekends: $70-$100 per 3 to 4 people 5 hours at a time

Tina P.:           Always a surprise

Alan G.:          Incidental funds

Matthew B.:    $20-$85
Washington Square Park Permits

When performing for revenue in New York City parks, it is the law to have a permit.  But, according to some performing musicians, there is an unspoken rule between performers and local authorities that allows many musicians and performers to play in Washington Square Park without a permit.  According to NYC Parks, there is a Temporary Use Authorization, allowing vendors to generate revenue without a permit for up to 29 days.  Artists not performing for more than 29 days in Washington Square Park are legal to busk.  Those who have been there for longer times are allegedly illegal without a permit but local authorities take the musical history of the park into account and allow them to play.

Cost of Sound Device Permit: $45
Rohan Butani is a High School Junior from Pierrepont School in Connecticut.